Thank you to the following individuals who are giving back! We encourage community service and all acts of giving back and are proud of our fans who continue to make a difference.  These outstanding individuals are pillars in their communities and inspire us all to #give10.
What they do to give back:
For the past five years, Jane has been heading up A Prom To Remember, which organizes a prom for local teens affected by cancer.  Everything for these teens is provided at no cost.  They receive formal wear, salon services, flowers, limo transportation, a red carpet, dinner, entertainment, pictures, gift bags & more.  "A Prom to Remember" gives them a night to look forward to:  to forget about their problems, look beautiful and mix with other teens going through the same thing.
What they do to give back:
Marissa is a Wish Granting volunteer for the Make-A-Wish Foundation and finds it to be one of the greatest things she has ever done. She has so far met with three amazing families that have children with life-threatening illnesses. Marissa finds inspiration in these children; they are very resilient and their illnesses don't stop them from having fun. She loves seeing the smiles on their faces when they get together for the first time and talk about their wishes. She is honored to #give10 for such an amazing organization.
Name: Letty Newswanger and the Dallas Area Browns Backers
What they do to give back:
The Dallas Area Browns Backers #give10 through the Dallas Children's Charities as they help fund youth organizations in the Dallas-Fort Worth area. One of these organizations is a 6th grade youth football team, the North Texas Raiders, where most of the kids come from under-privileged homes that can't afford to play football and learn all of the life lessons that go along with playing the game. With the support of the DABB, the team went undefeated in the 2013 season and won the Texas Super Bowl. They then stormed through the championship and shut out all but one opponent, winning this year's National Championship!
What they do to give back:
Chris is a Browns fan from Indiana who works with volunteer's everyday as a YMCA Director.  In his free time, he volunteers to #give10 with a local non-profit that helps ex-felons reenter the workforce. Community members like him help with mock interviews and job search advice.  The organization not only has a rigorous training program, but also requires that the participants volunteer their time in their thrift store or garden as a way to teach workplace etiquette. Chris has learned so much through the stories of the participants, and sees first-hand the impact he has on these individuals.
What they do to give back:
Matthew plays an active role in his local community, as he coaches his son and his son's friends in both Little League Baseball and Midget Football.  He also serves on various boards in his community, which he sees as his small way of repaying the gifts that he received as a kid and paying forward to the next generation.  Matthew is doing he part to #give10 by recognizing the importance of being a role model to those kids in his community that look up to him.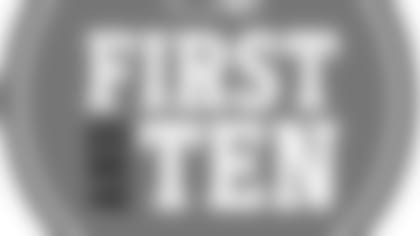 Make sure to let us know how you are giving back! Share your stories of goodwill on the First and Ten webpage or through @BrownsGiveBack to be recognized for your work!