Thank you to the following individuals who are giving back! We encourage community service and all acts of giving back and are proud of our fans who continue to make a difference. These outstanding individuals are pillars in their communities and inspire us all to #give10.
What they do to give back:
Ashland Christian Health Center is a nonprofit Free Clinic located in northern Ohio. They are run by hundreds of volunteers who #give10 by providing free or low cost medical care to the residents of Ashland County. Together as a group, LuAnn and her colleagues commit several thousand hours of volunteer work to help the underprivileged in their area! Their mission is to holistically care for and elevate the dignity of Ashland County residents who are uninsured or underinsured.
Name: Rocky River Middle School Faculty and Students
Hometown: Rocky River, OH
What they do to give back:
Rocky River Middle School participated in their 2nd annual Kick-It fundraiser to help with children's cancer research. The whole school participated in this week long fundraiser. Faculty has the students take ownership of this fundraiser by encouraging creative ways to raise money for their homeroom. It is a friendly competition between all grade levels that benefits a good cause. Last year, over $9,000.00 was raised and this year students and faculty came together to raise over $6,000.00!
What they do to give back:
For the past five years, Jane has been heading up A Prom to Remember, which organizes and provides the ultimate prom experience for teens who have been affected by cancer. With Jane's effort, everything for these teens is provided at no cost. They receive formalwear, salon services, flowers, limo transportation, a red carpet, dinner, entertainment, pictures, gift bags & more. This wonderful organization gives them a night to look forward to: to forget about their problems, look beautiful and mix with other teens going through the same ordeal. Thank you, Jane!
Hometown: Shaker Heights, OH
What they do to give back:
Nikki is the outreach coordinator for a church outside of Cleveland that impacts the local community through various community service events and projects. This past month, they hosted 150 kids from Cleveland's east side for their Angel Tree Christmas party. They welcomed children who have one or more parents incarcerated and are in need of a special holiday season. Nikki and her church come together to purchase gifts on behalf of the absent parent and give these children a memorable holiday. This is just one of many ways Garfield Memorial Church and their member's #give10 in their community.
What they do to give back:
Loretta felt a lack of positive opportunities in her community growing up and now makes a concerted effort to involve herself and her children in pastimes that encourage self-confidence, teamwork, and compassion for others. Currently, she gives back by volunteering her time coaching 4-12 year olds in cheerleading at a local church. She truly loves this program because it focuses on encouragement and coming together as ONE, instead of instigating competition and comparison of who is "better." In her efforts to #give10, Loretta is making a difference in her community and instilling good character in the youth!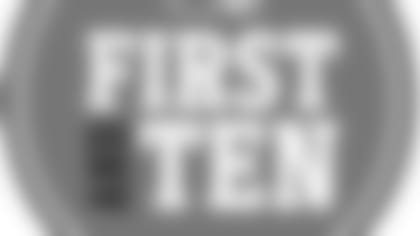 Make sure to let us know how you are giving back! Share your stories of goodwill on the First and Ten webpage or through @BrownsGiveBack to be recognized for your work!