When Joel Bitonio stepped onto the grass at Heinz Field on Sept. 7, 2014, for his first ever NFL game, milestones were the last thing on his mind.
Bitonio, selected 35th overall by the Browns in the second round of the 2014 draft, just wanted to fit in and prove himself at the NFL level. That task was even taller for Bitonio than most rookies — he was playing in his first game at left guard rather than tackle, where he played for four seasons at Nevada.
Thankfully, Bitonio had plenty of talented veteran teammates to help him out.
"I remember pretty much every time I walked to the line of scrimmage, I had to tell him the snap count, what the play call was and where he was supposed to go," nine-time Pro Bowler and six-time All Pro left tackle Joe Thomas said. "He had that ability, but technique wasn't polished and he definitely didn't know exactly where he was going."
Bitionio has come a long way in the 98 starts since.
He'll make his 100th career start Sunday in the Browns' Week 5 game against the Chargers in Los Angeles, just 25 miles from where he grew up in Long Beach, California. He'll become the fourth Browns player since the franchise was brought back to Cleveland in 1999 to accomplish the milestone, joining Thomas, Orpheus Roye and Alex Mack. 
The century mark highlights the longevity, durability and consistency Bitonio has anchored the offensive line with since his first start, while also signifying his perseverance and loyalty he's given the Browns as the franchise endured several difficult losing seasons.
"When I first came into the league, you didn't really think about milestones like that," Bitonio said. "You just want to play and get your opportunity. And then the longer I've been in the league, you realize there haven't been that many people that have played here long enough to achieve some of these things.
"It's just a special achievement of longevity and being with the team, and hopefully I have lots of more starts, too."
The teammates who were with him for his first start believe he will.
They all saw the talents and attention to detail Bitonio brought as a rookie, and they all saw how capable he was of handling blocking assignments as a 23-year-old. It's been no surprise for any of them to see Bitonio, who turns 30 next Monday, blossom into one of the offense's biggest leaders and best players.
"It seems like every coach that's come in has looked at him to be the leader, the guy that can kind of run things," said Mitchell Schwartz, who played right tackle for the Browns in Bitonio's first two seasons. "He hasn't lost any of his athleticism or his quicks. He's getting stronger and he's gained more experience."
Bitonio stuck with the Browns through five different head coaches and a 24-71-1 record in his first six seasons, including a one-win season in 2016 and a winless season in 2017. He always kept an upbeat attitude despite the disappointing results and did his best to restore positive spirits for the rest of the team, which has made him one of the most beloved Browns players in Cleveland.
Bitonio, though, wasn't always the same vocal figure when he first stepped into the Browns locker room. He was a bit more quiet and focused on being a listener to his offensive line teammates — a strong idea considering he was playing between Thomas, a soon-to-be Hall of Famer, and Mack, now a six-time Pro Bowler in his 13th season.
"He was a pretty boisterous, happy-go-lucky kind of guy," said Mack, who was the Browns' center during Bitonio's first two seasons. "He was just ready to learn anything, and then you look at him and see he's physically balanced, strong and pretty quick."
"Pretty quick" might be an understatement. Bitonio possessed some of the fastest footwork of the O-Line group, which likely originated from Bitonio's days as a tackle, where fast feet are needed to defend against the array of moves edge rushers use to maximize the extra space on the outside.
Coaches originally attempted to settle him down in hopes of giving him more control in the interior, where blockers are confined to less space. But that wasn't how Bitonio operated, and the Browns soon learned he didn't need to change his technique at all — it helped him block against all types of defensive tackles and pass rushers.
"That's what makes him so good is his ability to keep his feet moving and that ability to take the tackle athleticism and put it into guard while being strong enough inside to make it work," Schwartz said. "He's always understood the way he moves, the way he needs to play. He's basically the only guy who plays like that. I don't have anyone else that looks like him or moves like him. His ability to do that at a young age is especially impressive."
Bitonio managed to keep those quick feet despite suffering two lower-body injuries in his first three seasons. He missed the last six games of 2015 with an ankle injury and faced even more tough luck in 2016 with a Lisfranc injury, which required months to heal and ended his season after only five games.
But he hasn't missed a regular season game — or a snap — since. His durability has become one of his biggest strengths, and after originally worrying about whether injuries would detract him from a lengthy career, he's established himself as one of the toughest, most reliable players in Cleveland.
"You're going to get rolled up multiple times a game," said center and current teammate JC Tretter, who joined the Browns in 2017 for Bitonio's fourth season. "It's a little luck. As you get older, you start getting a feel for when the pile's coming. You almost gain a sixth sense if it feels like someone is getting close to your legs and you have to get out of the way. It's not easy."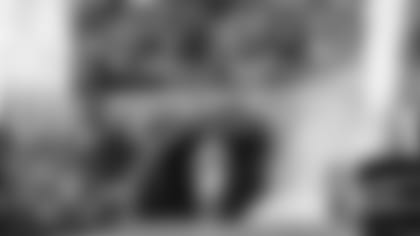 The durability has helped Bitonio play a heavy role in the Browns' recent success. He was one of the top-ranked guards in the league last season, when the Browns ended an 18-year playoff drought, and was the only player from the O-Line to be selected as a Pro Bowler, his third nomination in as many seasons.
Bitonio was forced to sit out in the Browns' first playoff game last year after landing on the reserve/COVID-19 list — the only game he's missed since 2016 — but his performance so far in 2021 should help the Browns return to the postseason. He's started the year again as one of the best guards in football, and his play is one reason why the Browns currently rank first in rushing yards, rushing touchdowns, rushing first downs and rushes of 10 or more yards.
"I think he's the best guard in the NFL," Thomas said. "There's not much doubt in my mind, but his technique is also impressive. He's married that great athleticism, great explosion and power with an incredible mind and great technique. It's fun watching Joel get out there and pull at his old age, still running around like a kid from California coming off the surf in Long Beach."
Now, Bitonio will return to his real home and represent his second home for the 100th time in a regular season game. The milestone comes as no surprise for those who have watched Bitonio's dedication and always-positive approach to the game, which have been evident ever since he took the field for the first time as a player of the Cleveland Browns.
Bitonio is just thankful for those who have helped him along the way. From his former teammates, to fans, to the current brass of Browns that will congratulate him Sunday, Bitonio's found a true home in Cleveland — and he's hoping to give them many more strong starts, wins and playoff success in coming years.
"It's just a special achievement of longevity and being with the team, and hopefully I have lots of more starts, too," he said. "It's one of those things where I probably won't even think about it once the game gets going, but looking back on the year, it'll be cool to see that I started however many games I did for the Cleveland Browns. It's pretty cool."