Browns area scout Kathleen Wood used her elite level of curiosity from a career as a former private investigator to become one of the first women in NFL history to hold a full-time college scouting position
---
---
Before Kathleen Wood received a life-changing message in 2016, watching football was only a hobby — a big one, at that.
Wood was a former private investigator at the time. She was raised in Philadelphia as a die-hard Eagles fan and fell in love with the sport by going to countless games at Veterans Stadium with her family's season tickets. She watched football for fun, just like any ordinary NFL follower, and had grown up with tailgating and attending games as a Sunday ritual.
"If you asked anybody who knows me or whoever knew me to say one word that would remind you of them, it would be 'football,'" Wood said. "It was something I fell in love with at an early age. I just loved the strategy and physicality of it."
Her career, however, had nothing to do with football at that point.
Wood spent 14 years in the private investigating field before she took an unconventional career turn and became an area scout with the Browns in 2020. She had a curious mind and loved asking questions about everything, which is why she pursued a criminal justice degree from Drexel and jumped into investigating first.
But football still felt just as important as her job, and the feeling was so strong that Wood had long considered a job change to blend the two together.
Even as an investigator, Wood always wondered what it would take for her to become a football scout. The first spark that led her toward chasing dream came in the form of a message from the late Tom Heckert, a former general manager for the Eagles and Browns. Wood had met him a few years earlier, and she kept in touch with him via Facebook about her aspirations toward pursuing a scouting gig.
"It's never been anything other (than scouting)," Wood said. "It wouldn't be anything else if it wasn't that. It feels right. All of it. That is what I'm meant to do in football."
Wood, however, faced a few obstacles.
She was a woman. She didn't play in youth football leagues when she grew up, even though she wanted to. Few women held roles in football when Wood fell in love with the game, and the outlook for women in the male-dominated sport was only just starting to change when she reached out to Heckert about her desire to scout.
But that was precisely why Heckert sent her a message. It contained a link to a news story about Jen Welter becoming the first female coach in the NFL when she became a coaching intern for the Cardinals.
Barriers were being broken, and Heckert was pushing for Wood to make the jump into scouting now.
"At that time, it was a literal pipe dream," Wood said. "But I knew that I wanted an encore career that I absolutely loved."
Wood was ready to dive in, and what awaited her was a four-year endeavor that required driving hundreds of hours on the road, losing countless hours of sleep and learning the skills necessary to become one of the first female scouts in league history.
To Wood, watching football was about to become more than just a hobby.
It was going to become a lifestyle.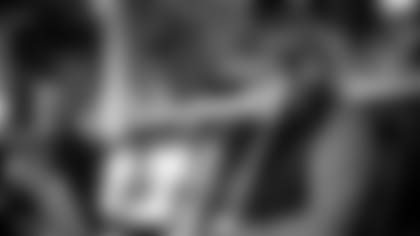 ---
---
Wood wasted no time building connections and expanding her scouting network after she received the message from Heckert.
Shortly after the exchange, she sent a detailed note to Troy Vincent, the Vice President of Football Operations of the NFL, explaining her aspirations to break into the league. She informed him of her background as a private investigator and why she believed her 14-year career as a question-asker could lead to a smooth transition into a talent evaluator. She was ready to jump in and meet anyone necessary who could help her.
Vincent directed her to Rod Graves, a former general manager who worked with him as the NFL's Senior VP of Football Administration. He agreed to meet with Wood at the 2016 Combine in Indianapolis.
The only time Graves had available was early in the morning — 5:30 a.m. — and Wood showed up, coffee in hand, at the Indianapolis Convention Center eager to share her story and goals.
"I just remember the passion that she had that you could identify in her eyes," Graves said. "She really wanted an opportunity. She wasn't asking for anything big. She just wanted someone to show her the way."
Graves was the first of many mentors who wanted to help Wood after hearing her backstory.
While attending Drexel University and doing an internship at the Camden County Public Defender's Office, Wood took an offer from a cousin to assist in starting the Mid Atlantic Detective Bureau. The startup was a bit of an unknown for Wood, who didn't initially intend to become a private investigator but was intrigued at the idea. She became the president, and within a few years, the company had grown to roughly a dozen employees. The bureau mainly worked on insurance fraud cases dealing with auto theft and property claims.
"I like to figure things out," Wood said. "I'm curious about people, places and things. Investigative work was just a little bit in my wheelhouse."
The investigating career gave Wood plenty of evidence to prove she was successful at using her curiosity to find facts, the core component of scouting. Scouts need to study not only how quickly a player can run, throw or tackle but also learn about how they grew up, why they love the game and what type of cultures they fit best in.
Finding information and background stories was easy for Wood. Her biggest challenge was evaluating tape, although she quickly learned how to do that, too, by enrolling in The Scouting Academy, an online learning platform where aspiring scouts can be taught by former NFL coaches, general managers and scouts over the course of a 16-week program.
Wood learned the terminology and picked up the tools to describe players in a way that would be clear and appealing to a general manager — using terms such as "cerebral" to describe a player with good instincts, "wiggle" to highlight an elusive runner or "tight hips" for a player that can run well vertically, but not laterally.
"(The academy) gave me a true baseline of where to begin because I've learned that different teams have different styles," Wood said. "You're always addressing the traits and tools, but some teams rate real little and some teams rate more. There's always a flavor."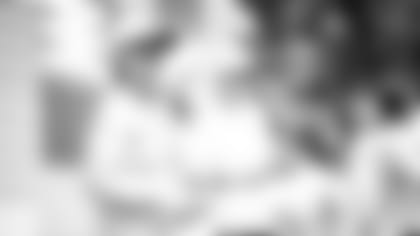 After completing the program, Wood found internship and shadowing opportunities with the Dolphins, Bills and Eagles in the summer of 2017, spending a month or so with each team and submitting scouting reports as well as assisting in 53-man roster cutdowns with her hometown team, the Eagles.
But Wood still couldn't latch on yet to a full-time job. She knew she was close and decided to conduct several of her own "mock" scouting visits to stay sharp and build relationships, traveling from her house in Rehoboth Beach, Delaware, to schools within a 2-3 hour drive, such as Temple, Villanova, Maryland and Delaware.
One of the people she met on those visits was Scott Pioli, the assistant GM for the Falcons at the time. Pioli had been in the league since 1992, starting as a pro personnel assistant for the Browns, and had held a variety of other player personnel positions with five other teams. His network was big, and he was exactly the resource Wood could lean on to continue to learn how to find a way into the league.
Pioli and Wood kept in touch, with Pioli fully recognizing Wood's potential when they met again at the NFL's Career in Women's Football Forum in 2018. Wood continued to pepper Pioli with questions about how to become a better scout. She didn't specifically ask for him to help her, but Pioli didn't need her to ask.
She had already sold him on her potential. In his mind, people like her were a necessity in the league.
"With Kathleen, it's never been about the climb. It's been about the work," Pioli said. "She understood the terminology. She wasn't throwing terminology out or using buzzwords that she didn't understand. The phrases she was using were contextually accurate. She wasn't whimsical or judgemental, and she had a process (for gathering information)."
After talking with her at the forum, Pioli dropped her name to Jim Nagy, the executive director of the Reese's Senior Bowl. Nagy looks for scouts each year across the country to file reports and compile a list of the top seniors and graduating juniors in college football, with most hired scouts either formerly from the NFL and working to find a way back in, or hungry for their next opportunity — like Wood.
Nagy spoke with Wood for the first time over the phone while he was driving from New Orleans back to Mobile, Alabama, a two-hour drive. The conversation lasted the entire length of the trip, and he had no doubt then that she would check all the boxes for his scouting staff.
"She was willing to restart (her career) and chase something that she, throughout her life, probably felt was unattainable," Nagy said. "She loved football and was very driven. She had the passion for it and willingness to sacrifice."
Wood made plenty of sacrifices during her time as a Senior Bowl scout.
Nearly every weekend during the season, Wood drove around the state of Florida, often waking up hours before the sun rose, to scout the biggest college football games happening in the state. She usually attended multiple games in one weekend and occasionally two games in one day. The drive for the day always started at her residence in Palm Beach and often ended there even if the stadium was hours away.
But she always got her reports filed in a timely, efficient manner and never complained. This was the scouting life Wood knew she was stepping into, and she cherished it all.
"I love it," she said. "It's a lifestyle, so you have to embrace it."
The next door that opened for Wood after the Senior Bowl was in Cleveland.
The Browns had an opening in their regional scouting team, and Wood was more than ready for it. She had sent over 60 reports to the Browns over the course of her Senior Bowl work, so newly-hired Executive VP of Football Operations and GM Andrew Berry could see first-hand the pile of potential Wood brought to the franchise.
Wood was hired to become the team's Northeast Area Scout in 2020, becoming one of the first female scouts to ever work in the NFL. She's still completing long drives among the dozens of schools in her area that ranges from Maryland to Maine and hasn't stopped embracing the thrill of working tirelessly to collect information and finding the next crop of promising Browns talent.
"Any questions we have (about players in her area), if we don't have an answer to it, we'll get it pretty quickly," director of player personnel Dan Saganey said. "The preparedness on the front end and work she puts in before she goes into school is extremely impressive. She's been a great example for our younger scouts."
Wood's story is also one of inspiration for other women hoping to find their way into the sport. The landscape for females in football is changing rapidly because of people like Wood, who have helped break down barriers for women in the league even further with her success and dedication.
"There's women all over the landscape," she said. "We just need more of them … Why would anyone want to eliminate 100 percent of the talent pool? Let's just include women and be able to at least interview for these roles.
"And if we're qualified, hire us."
Wood made it happen through years of learning how to master the job. She didn't take short cuts. She took her skills from one career and learned how to use them to jump into another, one where reaching the top — the NFL — is immensely difficult regardless of age, sex or skills acquired in a previous career.
But it's the career Wood always viewed as her dream. It started when she could only be a fan, and she wondered how she could turn her love of watching the sport into more than a fun Sunday activity.
She achieved it not only by growing a set of football eyes and strong IQ for the game, but by using her elite level of curiosity to the fullest and embracing every challenge along the way.
"I'm not surprised because of what I put into it — hard work, energy, effort," she said. "You just don't quit. If you don't quit, you can get in. If you have resiliency and you want it, you can do it."