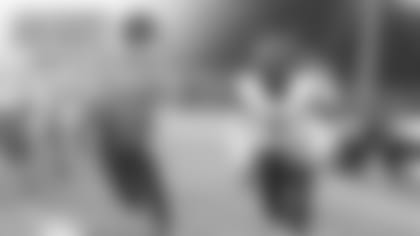 | | | | | | |
| --- | --- | --- | --- | --- | --- |
| Final | 1st | 2nd | 3rd | 4th | Final |
| North Olmsted | 7 | 7 | 7 | 0 | 21 |
| North Ridgeville | 13 | 17 | 7 | 7 | 44 |
1st Quarter
NR – McCall, 67 yard rushing TD (PAT no good)
NR – Coleman, 35 yard TD reception from Ammons (PAT good)
NR – McCall, 21 yard rushing TD (PAT good)
2nd Quarter
NR – Davila, 29 yard FG
NR – Gramatikos, 1 yard rushing TD (PAT good)
NO – DeJoy, 16 yard rushing TD (PAT good)
NR – Lesniak, 4 yard reception from Sullinger (PAT good)
3rd Quarter
NR – DeFlorentis, 37 yard reception from Sullinger (PAT good)
NO – Hufstetler, 27 yard reception from Ammons (PAT good)
4th Quarter
NR – Bright, 24 yard rushing TD (PAT good)
Coach of the Week: Luke Durbin
MVP of the Game: Collin Sullinger, QB #10
North Olmsted
1. Christian Ammons (QB #10) 15/25 241 passing, 2TD
2. Ryan Coleman (WR #20) 6 catches for 137 receiving, 1TD
3. Mario DeJoy (RB #43) 9 carries for 47 yards rushing, 1TD
North Ridgeville
1. Demario McCall (RB #2) 13 carries for 129 yards, 2 TD
2. Cameron Bright (RB #38) 15 carries for 79 yards, 1 TD
3. Collin Sullinger (QB #10) 9/17 129 passing, 2TD; 5 carries for 40 yards rushing
Play Like a Brown Moment of the Game
In the second quarter, and with the Eagles knocking, Rangers DB #14 Montgomery picked off North Olmsted's Ammons in the endzone, setting up a Rangers touchdown on the ensuing drive.
Cleveland Browns First and Ten
While visiting a different community each week for the Cleveland Browns High School Game of the Week, we come across an overwhelming amount of selfless individuals who help make high school football so special in their respected communities. This week we met North Olmsted Booster volunteers Tim Yarian and Greg Bloomfield. Both Yarian and Bloomfield volunteer for all Fall-sport home games, selling raffle tickets and programs to help generate funds to support the growth of the Eagles' athletic department. Both men are proud fathers of members of the Lady Eagles basketball team.
How are you giving back? Share your stories using #give10.
Stats courtesy of North Olmsted- John Wadas
Make sure to follow @BrownsYouthFB on Twitter to stay up to date on all Cleveland Browns youth and high-school football programing throughout the year.