All hands were on deck Tuesday at Cleveland's Louis Agassiz School for the United Way's Hometown Huddle day. Literally, all hands.
More than 100 members of the Browns staff volunteered alongside teachers, students and other community members to build a much-needed playground on the school's campus.
Team president Alec Scheiner, general manager Ray Farmer, more than 20 players – including Pro Bowler Jordan Cameron – as well as virtually members of every department in the Browns organization busted out their work boots and leather gloves. Miles Austin spread rocks all throughout the base of structure, while Jabaal Sheard lugged a wheelbarrow full of supplies. Christian Yount hammered in some nails, while Spencer Lanning tightened some screws.
Hometown Huddle is a nationwide day of service when NFL teams partner with their local United Way to impact youth health and wellness by building fitness zones or hosting football clinics. United Way of Greater Cleveland is a leader in mobilizing people to give, advocate and volunteer to advance education, income and health in the community.
Not even a little bit of rain would dampen the spirits and smiles at Louis Agassiz on Tuesday.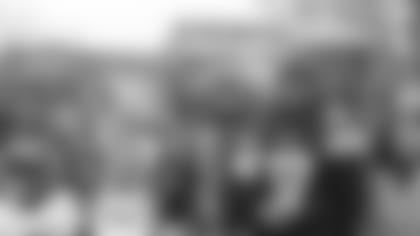 "I've been teaching at this school for 16 years, and this by far is the most amazing thing that's happened here," said Rene Luetz, a middle school science teacher.
"This playground is going to bring stability and even more community involvement here because this neighborhood is surrounded by homes and families," said Dona Brady, the councilwoman for Cleveland Ward 11. "This is absolutely fantastic. To see the Browns be so caring for the children, it's just fantastic."
The Browns staff, players and other local volunteers literally built a playground from scratch. The orange and brown themed park features a monkey bar and a slide. The day was filled with music and pizza, too, making this event even more memorable. Kids posed for pictures with their favorite players and received autographs they'll cherish forever.
Louis Agassiz has been a fixture in the community for decades and it has never had a playground. Principal Christine Hericks thinks this could be a groundbreaking moment for her school and the surrounding community.
"To see all the players out here, it really does make volunteering cool for our students," said Hericks, who was a student herself at Louis Agassiz. "This is boosting our whole community. I know we can keep this enthusiasm going."
The new playground will obviously encourage students and local children to be active at least 60 minutes each day as part of the Browns' PLAY 60 program. But the day may also activate more than just exercising.
The Cleveland Browns community relations department launched the volunteering initiative, First and 10, this spring and its spread like wildfire all throughout the country. The Browns are asking every member of their passionate fan base to #Give10 hours of their time – for any cause.
Dozens of Louis Agassiz students were so fervent with volunteer spirit that they signed up to #Give10 right on the spot. The students plan on bettering the outdoor part of their school even further – by painting a woodshed and tidying up the area.
Browns linebacker Craig Robertson, who regularly volunteers his Tuesday's for the community, knows how impactful this visit could end up being.
"As a kid I grew up on the playground all the time," said Robertson, who encourages other teammates to join him at community events. "We need more outdoor activities for this kids and  I know this will help."