When Matty Weeks sent a message in the then-dormant Toronto Browns Backers Facebook page of about 30 members in 2013, he was simply looking for anyone who'd be interested in talking about the Browns.
Weeks, who became a Browns fan after making a few annual visits to Cleveland to visit the Rock and Roll Hall of Fame in previous years, received one response. It came from Bryan Loberg, a diehard fan who rooted for the Browns every week as though he was sitting in the first row at FirstEnergy Stadium.
Loberg invited Weeks to join him to watch a game at a bar toward the end of the 2013 season, and while he had an enjoyable experience watching with another Browns fan, Weeks wasn't sure if they'd meet again.
But Loberg popped a message in his inbox a week later. He wanted to become president of TBB and turn the club into something big.
And he wanted Weeks along with him.
"I was like, 'I don't really know what this is about,'" Weeks said with a laugh. "But I said, 'Sure, I'll back you.'"
Weeks met with Loberg several times over that offseason to find a bar for gatherings, create a logo and find the right decorations for their new spot. He was captivated by Loberg's passion and lofty ambitions for the group, and by Week 1 of 2014, the club was ready to roll. The plan worked, too — members steadily increased and more people showed up each week.
TBB quickly became the "Dawg Pound North," and after a few seasons, hundreds of members had joined the group and frequently looked to attend their gameday festivities and other gatherings.
It was all because Loberg and Weeks believed TBB could always become bigger and better.
"He's like a larger-than-life personality," Weeks said. "He always had these lofty ideas and plans for the club, all things that sounded ridiculous when he first said them, but they always ended up coming to fruition, and somewhere along the way, I learned to stop doubting him. He had a way of making things happen, no matter how crazy and unrealistic they seemed. "
Loberg passed away from a heart condition in 2021, and the chapter's board of directors passed the presidency down to Weeks. The group continued to celebrate their fandom with the high energy Loberg used to inspire new members to join every year, and its long list of activities and charitable causes completed in 2021 are why TBB has been named the Chapter of the Year by Browns Backers Worldwide.
"Winning Chapter of the Year was a bittersweet moment for me," Weeks said. "I'm truly in awe, and it's because of what we were able to accomplish. It was truly shocking.
"It was always one of Bryan's goals to become Chapter of the Year, and to do it in the year he passed away is almost poetic in a sense. We really wanted him to be a part of this."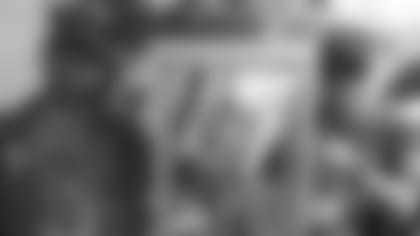 TBB raised over $1,500 through 'The Bryan & Lennie Fund,' named in memory of Loberg and Lennie Jones-Pinault, a former member who also passed away due to a heart condition. The charity raises money each year for The Heart & Stroke Foundation of Canada and raised over $5,000 during its first three years.
Additionally, TBB raised $5,196 in its first "Ride for Heart" campaign, an annual event put on by The Heart & Stroke Foundation that encourages people across the nation to cycle, walk, run or complete some form of exercise to raise money for life-saving heart & stroke research. The event was held virtually, and TBB members conducted their exercise in their own communities to raise the money.
To honor Loberg, TBB also conducted its first "Toronto Browns Backers Day" on March 14, featuring mega raffles and prize giveaways that went toward The Bryan & Lennie Fund.
All of those causes were in addition to the same memories the group made at Shoxs Sports Saloon & Billiards Lounge every gameday. The group now has over 800 members on Facebook and is as big as it's ever been, and it all started because of Loberg's passion and drive to invite Weeks and countless others to gatherings.
"He had a way of making everybody feel special," Weeks said. "The minute someone new walked into the bar, he'd gravitate to them, introduce himself, show them around the club, point things out on the wall, and then sit them at a table with some of our regulars so that they wouldn't feel out of place, or alone."
The next gathering will take place Saturday at Shoxs for a party to celebrate winning Chapter of the Year. Browns legend Webster Slaughter will be in attendance, and the group will receive custom TBB pint glasses for its members. Nearly 100 members are expected to pack the bar.
Weeks is prepping a slideshow that will run in the background and include photos of members over the years. Loberg, of course, is in many of them — his spirit will always live in Dawg Pound North.
"(Winning Chapter of the Year) was something we always talked about," Weeks said. "This is what he wanted, but I also know he'd be really proud of us for doing what we did."