Pierre Desir drew Jim Leonhard's name for the defensive back's Secret Santa exchange. The rookie was stumped. What could a 10-year veteran possibly need?
So Desir covertly reached out to Leonhard's wife, Katie, who told him Leonhard is a big adventurer in the offseason.
"So I got him a Go-Pro to attach to his helmet when he goes mountain biking or surfing," Desir said. "I wanted one for myself, but it was the last one in the store!"
Go-Pro, the mini-portable camera, was the most popular item in the Browns locker room. Barkevious Mingo received one from fellow linebacker Keith Pough and defensive end Billy Winn got one from his agent.
Sound systems were also popular. Desir received wireless Beats headphones from assistant coach Bobby Babich, and K'Waun Williams hooked up Donte Whitner with a Beats system for his locker.
There were a few iPad minis seen in gift bags in the locker room. Chris Kirksey gave one to his mentor, Karlos Dansby, who was thrilled.
"I'm going to download movies as soon as I get home," Dansby said. "And my son Karlos Jr. will love playing with this."
For all the Apple gadgets, Jordan Cameron gave Jim Dray a hefty iTunes gift card. Cameron also received some speakers from tight ends coach Brian Angelichio as well as a framed picture of one of Cameron's touchdowns from the 2014 season.
Keeping it Cleveland as he always does, Whitner presented Buster Skrine with floor seats to an upcoming Cavaliers game against the Brooklyn Nets.
Skrine wanted to impress sneakerhead Joe Haden, who just opened up his own shoe store in downtown Cleveland called The Restock. Skrine settled on the flashy Italian Giuseppe sneakers, which are possibly the most expensive gift any player received.
Linebacker Craig Robertson is a known golfing enthusiast, so his teammate Tank Carder decided on a loft wedge for the Browns' 2014 Man of the Year. Dansby gave Carder a stylish Gucci beanie to wear during the winter months.
New Browns member Scott Solomon agonized over what to get one of his biggest supporters, Kruger. Solomon decided on an elaborate pocket knife Kruger can use while he hunts back in his home state of Utah. Solomon received a remote control car from Mingo.
Justin Gilbert chose a Louis Vitton belt for Pro Bowler Tashaun Gipson.
Eric Martin went old school on Jabaal Sheard, giving his teammate a shoebox full of cash. All of the outside linebackers received the poster below from their coach Brian Fleury.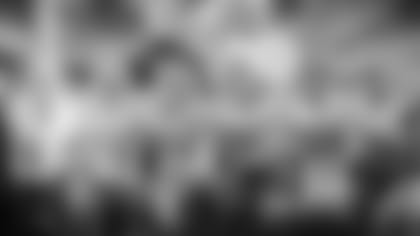 The offensive linemen are holding their gift exchange Friday. Most of the wide receivers and running backs opted not to do Secret Santa, but Travis Benjamin gave his teammates Visa gift cards.
The consensus among the Browns for what they really want for Christmas?
"A win against the Ravens," Desir said.