Anthony Walker Jr. kept perfect attendance in school all the way through high school at Monsignor Edward Pace in Miami Gardens, Fl. He didn't even miss senior skip day.
He was also involved in different extracurriculars like yearbook, as well as being a member of the National Honor Society and the football team. That dedication to school stemmed from his father, Anthony Walker Sr., who is an educator.
As Walker stepped toward the podium on Thursday, he wore a white t-shirt that sported the Stay in the Game! Network logo. He is a brand ambassador for Stay in the Game! and The Cleveland Browns Foundation, which aims to support students while striving to increase school attendance and promote improved attendance.
His passion for education has not wavered.
"I just understood how important it was for me to be at school every day," Walker said. "Just the importance of showing up every day and the skills that you learn from that, being there every day, being attentive in school and to your teachers. And then just those skills that you learn, those social skills you learn with being around your other teammates and classmates and all that stuff."
In the 2022-23 school year, Ohio saw a decrease of chronic absenteeism of 3.4 percent. Districts a part of the Stay in the Game! Network (SITG!) are outperforming statewide numbers.
Across SITG!, there was a 5.2 percent decrease in chronic absenteeism with 70 percent of districts participating in the Network seeing a decrease in their chronic absentee rate.
Seven of the 17 SITG! School districts (41 percent) significantly outperformed the state, lowering chronic absenteeism between 8.5-10.9 percent. Cleveland Metropolitan School District decreased their chronic absenteeism by 6.3 percent, while Euclid City Schools decreased their chronic absenteeism by 7.3 percent.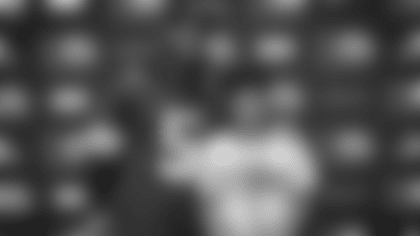 Walker wanted to find a way to help support education and increasing school attendance, and it sparked his involvement with Stay In the Game!
"I understand how hard it is sometimes when you grow up in a difficult environment," Walker said. "How hard it is to get to school every day. Sometimes you don't have a ride. Sometimes you don't just have someone telling you and pushing you to do it. So again, like I really appreciate Stay In the Game! really pushing that initiative for those students, because at the end of the day, I know how big of a role it played in my life and I know how big of a role it will play in those kids' life."
Walker held an event at Shaker Heights Middle School on Sept. 5, where he donated backpacks and school supplies to those students. While he attended another Stay in the Game! event in the spring of 2023 at Maple Heights Milkovich Middle School, this event on Sept. 5 was one where he took care of the costs for the school supplies, as well as an ice cream truck that showed up for the students.
While at Shaker Heights Middle School, he witnessed the camaraderie of the students as they interacted with one another. And he doesn't want that element of school to be taken for granted. He equated some of the components of being on a team to being a part of group projects in school, where there is a level of learning from peers and growth in social skills.
"Just to obviously applaud them on starting the school year off strong, and just to share my story," Walker said of his involvement with Stay in the Game! "A lot of people don't think like, 'Oh, he went to school every day.' That was really hard on me with school. Obviously, I play in the NFL. I'm very fortunate for that. But I don't think I'm here without my dad pushing the academic agenda more than anything."
"My dad never said, 'Oh you're going to make it to the NFL,'" Walker continued. "He was always like, 'You're going to go to college for free because you do well academically, have great social skills and you do stuff around the school.' Pushing that more than anything. So, obviously having him really guide that was really huge for me and my life."
His dedication to school and education has translated to his football career, too, forming him into the type of teammate he is in the locker room. After attending Northwestern for college, Walker was selected by the Colts in the fifth round of the 2017 NFL Draft. He signed with the Browns as an unrestricted free agent in March 2021.
While Walker recognizes his success on the field as a linebacker and a part of the Browns defense, he turns back to his education and focus on academics even at this stage of his career, prompting his personal involvement with Stay in the Game!
"I don't think I am the person that I am or the teammate that I am without having those social skills and growing inside of a classroom," Walker said.