Sunday was a revelation, or the end of a drought, for the Browns' offense.
It came at just the right time, producing a 40-25 win over the division rival Baltimore Ravens and vaulting the Browns into first place in the AFC North after four weeks. And it couldn't have happened without the contributions of Nick Chubb.
The running back ripped up 165 yards on the ground, caught three passes for 18 yards and scored three rushing touchdowns in a performance that earned him AFC Offensive Player of the Week honors.
Chubb's touchdowns all came in a 30-point second half for the Browns, twice breaking a tie and ultimately sealing the road victory for the 2-2 Browns. We're taking a closer look at each of his scoring plays with this week's Eye in the Sky.
Touchdown No. 1: Chubb breaks four tackles on 14-yard TD run
The first Chubb touchdown on the afternoon was a testament to his unique blend of burst and tackle-breaking ability. It's difficult to bring the compact, powerful Chubb down with one defender.
Baltimore couldn't do it with four of them on this play.
The play is a zone stretch to the right with tight end Pharaoh Brown motioning to the right to create an offset I-formation, with Brown serving as a lead blocker to the front-side edge of the play. Chubb receives the handoff headed right and almost immediately sees two key indicators of where the play could be headed: linebacker Kenny Young is blitzing into the front-side B gap, forcing right guard Eric Kush to lunge to stop him, and rookie rush end Jaylon Ferguson has outside leverage on right tackle Chris Hubbard. Brown has not yet gotten outside of Hubbard to create any sort of edge for Chubb to rush around, so he decides to change course entirely, cutting back (as is common in a zone run) against the flow of the play to where JC Tretter, Joel Bitonio and Greg Robinson have created a bit of a crease on the back side.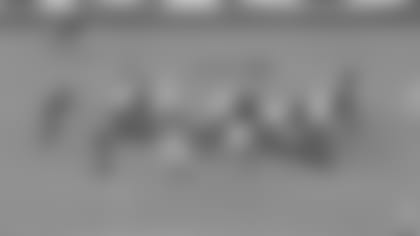 The lone defender in Chubb's path at first level is linebacker Matt Judon, who stays fairly tight to the line of scrimmage but has given a peek of daylight by getting slightly too deep into the backfield. It also doesn't help Judon that his tackle attempt was less than textbook, making for an easy break of an arm tackle by Chubb.
Judon's poor attempt also puts safety Earl Thomas in a tough spot. Based on the direction of his hips and his momentum, he's really only capable of making the tackle from the right hash to the sideline. His steps matched the flow of the play, not the possibility for a drastic cutback across two-thirds of the field.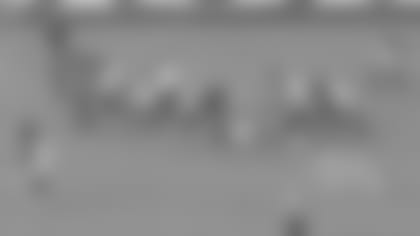 He starts to attempt to change his momentum at the 5, but only changes direction laterally by a few yards while gaining 4 yards upfield. It's not enough to match Chubb, who has fully committed to a lateral path. Thomas can only dive at Chubb's ankles and watch him break the would-be tackles attempted by Brandon Carr and Maurice Canady, who were also battling similarly disadvantageous pursuit angles.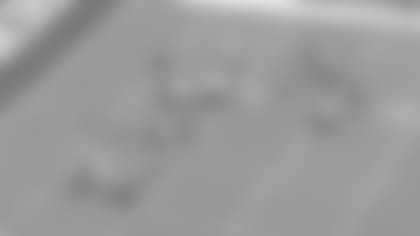 Credit is due to Ricky Seals-Jones for partially hindering Carr's pursuit angle of Chubb, but the running back did 90 percent of the work on this play. He earned his first score Sunday.
Touchdown No. 2: Chubb breaks through traffic for short-yardage score
Chubb's third score of the day is the one everyone loves because everyone digs the long score. But this one is my favorite, because there are multiple pieces at work here that had to execute, or else the play would have been blown up in the back field.
Oh, and they ran it out of a heavy set. Six-linemen packages are the best.
Off the snap, Tretter executes a cut block of the nose tackle Michael Pierce, who was lined up in the A gap on the inside shoulder of the left guard (known as a 1 technique). If this cut doesn't work, Pierce blows up the run in the backfield.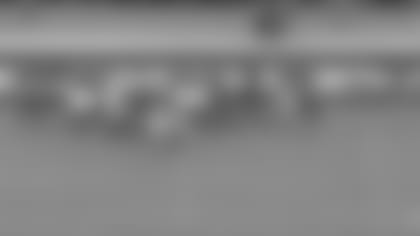 It works, though, and allows Bitonio to pull out to the left and get going down the train tracks. In his path? Free safety Chuck Clark, who was playing tight to the line and filling a gap when Bitonio arrived to drive him right out of it.
Remember the cut block on Pierce? He was forced to hop over Tretter, which put him a beat behind the pace of the play and kept him out of tackling range of Chubb, who took the handoff left, paused to wait for Brown to reach his block and accelerated toward it.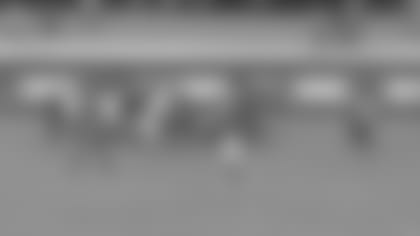 In his initial target hole was two-way player Patrick Ricard, who did a nice job of flowing with the play and fighting through the wash to keep pace with Chubb. He ultimately had to fight through one too many men, though, as Brown's block of Chris Board cleared a hole for Chubb further to the left and forced Ricard to attempt to shuffle over him, delaying him enough to allow Chubb to reach the open hole first. All Ricard could do was dive at Chubb, who powered through his attempt over the goal line.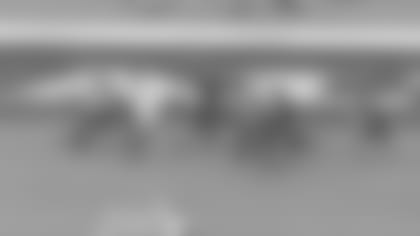 Bitonio celebrated with a fist pump, knowing his block cleared the way for Chubb's second score.
Touchdown No. 3: Chubb races right past Ravens defense for 88-yard score
This one you've likely seen at least a few times since Sunday.
Chubb set the new maximum speed reached by a ballcarrier on a scoring play in the NFL this season with this run, which was again mostly work done by him. But a couple of key blocks sprung him and allowed him to use that rare burst to race past the rest of those in purple and even force Thomas to concede defeat near the Ravens' 30.
It was first-and-15 at the Browns' 12, and with Cleveland nursing a six-point lead, it needed to at least chew some clock. Chubb did that and more, with a run that was a true testament to Chubb's vision.
Here's how the play is supposed to work, at least at this point in its execution: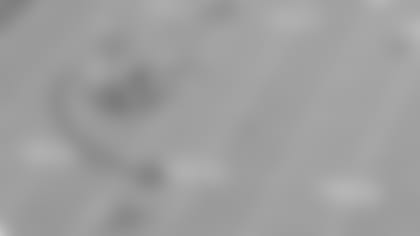 With Kush and Tretter pulling out in front, they're supposed to create an inside seal and get Chubb out near the numbers with open space ahead and maybe one defender left to make miss.
Chubb sees the defenders racing to win the edge, though, and wisely cuts back inside of his blockers. Here's the moment when Chubb decides to cut it upfield: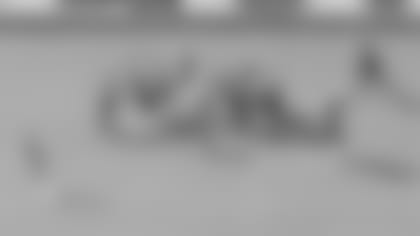 This helps Kush bounce from his first man blocked, linebacker Tyus Bowser, to linebacker Patrick Onuwasor, accounting for two defenders in immediate succession and allowing a free lane for Chubb.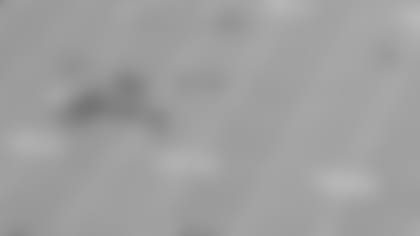 The real MVP of this entire play, I've just now discovered, is tight end Demetrius Harris, whose sustained block of Chris Wormley created an inside seal and won the edge for the Browns. Chubb did the rest, sprinting almost the entire length of the field and sending Jim Donovan into a radio-booth frenzy.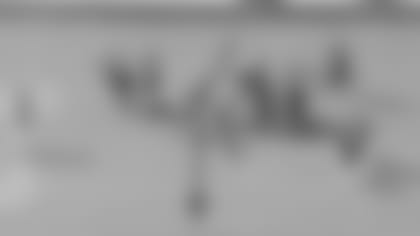 Chubb's big day won't be forgotten anytime soon by Browns or Ravens fans. He can thank his linemen, which he likely already has, but he should also pat himself on the back for an excellent day of work.