Tyrod Taylor believes he was born to lose but built to win. It's a mantra he liked so much back in college at Virginia Tech he tattooed to it on his biceps.
"BORN TO LOSE" inked on one arm. "BUILT TO WIN" on another.
The newest (and maybe most promising) Browns quarterback in a long line of them believes the saying encapsulates a journey that has been filled with highs, lows and everything in between.
"I felt like it kind of spoke about my life," Taylor says. "It definitely speaks volumes or makes sense when I look back at the things I've been through."
Indeed, if Taylor was born to lose but built to win, then look no further than a non-linear path to Cleveland, where he's the franchise's 29th quarterback in almost two decades. Along the way, he's overcome obstacles ranging from a burning draft-day snub to racial bias that influences how people view African-American quarterbacks to a midseason benching in Buffalo that spelled the end of his time there.
Taylor, traded to the Browns for a third-round pick in mid-March, maintains he's all the better for it. And in Cleveland, he says he's found a new home, a place where general manager John Dorsey and head coach Hue Jackson believe he can turn around a team that has not won a game since Christmas Eve in 2016. For almost two decades, fans in Northeast Ohio have watched passer after passer come and go, an endless cycle of mediocrity (or worse) at football's most important position.
But as these new Browns — headlined by Taylor and a host of eager, undaunted faces — prepare for their preseason opener against the Giants in New York, optimism abounds that he just might be different.
"We're here a lot, and there's no harder worker on our team than Tyrod Taylor," Browns owner Jimmy Haslam said earlier this month. "I knew that we were getting a good football player. I did not understand what kind of a great person we were getting. He alone has set a different tone."
It's true. Since joining the Browns, Taylor has been something of a standard-bearer for a team that looks and feels so different than the ones of the past few seasons. Joined by the likes of Pro Bowl receiver Jarvis Landry and free safety Damarious Randall — the Browns acquired the trio in a series of high-profile trades to open the league year — Taylor's arrival underscores the team's push to win now. It's what he did in Buffalo, and it's what he expects to do in Cleveland. A three-year starter with the Bills, the duel-threat Taylor earned Pro Bowl honors in 2015 while amassing the most combined touchdowns (65) and the second-most wins (23) by a Buffalo quarterback in his first three years. Perhaps his greatest legacy, though, is lifting the Bills to their first playoff berth last season.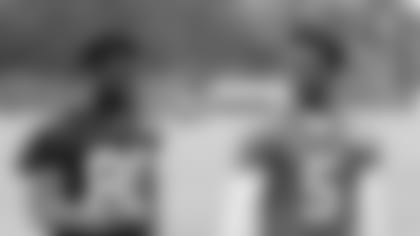 Still, Taylor remains a polarizing player. Some see him as a budding star while others view him as a stopgap. Last November, the Bills unexpectedly sat Taylor for a road game against the Chargers – Buffalo lost, 54-24, in a game that saw Taylor's replacement, rookie Nathan Peterman throw five interceptions -- before reinstating him as the starter. Against that backdrop, Taylor is well aware of the criticism that surrounds him as a player. Regardless of the situation or your opinion, it's all white noise to him.
"It's been the same way from little league to high school to college; it doesn't matter," says his father, Rodney Taylor. "You have to make it work. That's what he does."
It's also why Taylor is often unflappable when faced with questions about being a placeholder for rookie quarterback and No. 1 overall pick Baker Mayfield. He smiles and takes it all in stride.
"That's a term other people use," he said his introductory news conference. "I don't view myself as a bridge quarterback. I'm a quarterback. As far as bridge, hopefully I'm hoping bridge this team to a Super Bowl. That's the plan."
RODNEY TAYLOR REMEMBERS a younger Tyrod whose million-dollar smile was only matched by bigger dreams. He and his wife, Trina, taught their only child the value of hard work and the lessons of their Christian faith. They encouraged Tyrod to aim high, fostering a deep well of confidence that continues to buoy him to this day. "I'd like to take credit for that but I think that's just a product of where he's from," Rodney says. "We've told him all the time he can do anything he wants to do so he believes that."
Although baseball was Tyrod's first love, he eventually gravitated toward football and basketball, looking up to Hampton natives and neighborhood heroes such as Michael Vick, Allen Iverson and Ronald Curry. He saw himself in them, Rodney says, and it helped reinforced the belief he could be like them someday. As a freshman at Hampton Roads High School, then-Virginia Tech coach Frank Beamer swung by the school and told Tyrod he'd be his quarterback someday.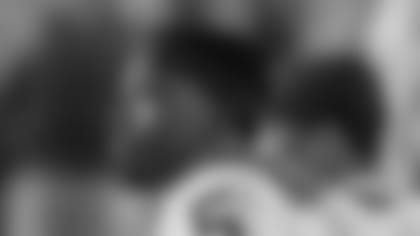 Taylor went on to star four years for the Hokies, earning ACC Player of the Year honors as a senior. Once the draft process began, however, some analysts suggested Tyrod -- an ultra-athletic and gifted runner in the open field -- would be better suited as a receiver than quarterback. The Taylors balked at the idea.
So did former Falcons coach Dan Reeves, who coached Vick in Atlanta and briefly worked with Tyrod at the 2011 East-West Shrine Game. After an impressive performance, Reeves dismissed the narrative Taylor should make a position switch in a postgame news conference. "It seems after he said this," Rodney says, "Nobody mentioned anything about him playing anything other than quarterback."
On draft day, the Taylors rented out a suite at the Embassy Suites in Hampton to celebrate their son's special day. It ended in disappointment as 10 other quarterbacks — ranging from Pro Bowlers Cam Newton and Andy Dalton to busts like Jake Locker and Ryan Mallett — heard their names called first. Taylor can and will recall them one by one if you ask him.
What bothered him most, though, was watching Trina throughout the process. It's given Tyrod an edge ever since. "She was hurt. I saw tears come down her face because she felt that I was being passed up, people being taken ahead of me that she didn't think should have been taken ahead of me," he says. "Of course, that was our only time going through that experience, so as a parent — I'm not a parent — but she didn't know what to expect. But she expected that I would get drafted earlier. It wasn't played out that way, but that's how it goes sometimes." As a constant reminder, Taylor writes "MOM" on the athletic tape around his wrist. "When I got my opportunity to go out there and play," he says. "I wanted to make people realize they shouldn't have overlooked me."
Taken 180th overall by the Baltimore Ravens, Taylor joined a veteran-laden squad that would win a Super Bowl two seasons later. As the primary backup to Joe Flacco, he played sparingly but demonstrated promise behind the scenes. Jim Caldwell, the Ravens' offensive coordinator from 2012-2013, saw an eager student, gifted athlete, and talented quarterback who could move the ball down the field. Taylor's leadership, he says, was off the charts, comparing him to a pair of former pupils in Ravens linebacker Ray Lewis and quarterback Peyton Manning.
"You guys don't know how good he is," Caldwell says. "You just wait."
As the Bills were considering signing Taylor in the spring of 2015, then-head coach Rex Ryan sought Caldwell's opinion of the up-and-comer. "You can't go wrong this guy," he recalls telling Ryan. "He's a winner. He understands how to win. He knows what it's all about. He's got the right kind of temperament. He has some fire and passion for the game and he demonstrates that every day."
TAYLOR HAS ALSO shown courage over that span, both on and off the field. In a wide-ranging interview with The Buffalo News last October, he addressed the realities that come with being an African-American quarterback, saying criticism associated with the position is "always going to be twice as bad just because of who I am."
He continued: "We're held to a certain standard. We almost have to be perfect. I wouldn't say it's just an African-American quarterback thing. It's an African-American athlete thing – or just an African-American thing. And that's not anything I just found out. It's been that way since I was a kid." There's also research to support that claim. Last August, the University of Colorado-Boulder published a pair of studies that "suggest that unconscious racial bias, propagated in part by sports media, still influences how the public views the quarterback position."
Taylor, asked about those comments, stands behind that statement but doesn't dwell on it. "It's not anything that I said then that I didn't know," he says. "I've been African-American my whole life so certain things come with that. Whether it's fair or not, that's not for me to say. But I would say — whether it is (fair) or whether it isn't — the main thing that it's taught me in my life in sports and outside of sports is to take advantage of every opportunity."
Rodney echoes a similar sentiment, saying Tyrod's internal locus of control has served him well. "If they never ask him about it, then he never really mentions that because those are things you have no control over," he says. "They asked him and he answered. I think he doesn't look at that because it's nothing you can control. He'll tell you that you can only worry about stuff you can control; how you're viewed and how you're not viewed -- you can't have anything to do with that. You just go out and you work hard and you do the things that are asked of you and you try to move forward."
IT'S AN APPROACH that has served Taylor well regardless of the team or situation. At the beginning of the Browns' offseason workouts, he made it a point to introduce himself to each of his 89 new teammates. He knows his position — beyond mastering a playbook, near-daily media appearances in the season or making checks at the line-of-scrimmage — is dressed with an additional layer of responsibility. Not yet even 30 years old — Taylor turned 29 last Friday — he is the third-oldest member of a youth-laden roster, a dynamic that makes him laugh when thinking about it. It's also a charge he takes seriously.
"One thing that kind of stuck out to me last year in Buffalo was just how together the team was," he says. "It was definitely unique to a part of our success. So when I first got here, of course, me being the new guy as well as being an older guy on the team, I wanted to make it my point to shake as many hands to let them know I'm here to lead and any questions that you have or anything you need. Even though I'm the new guy here, you can come to me with any questions that you have or concerns and I'm going to get to the bottom of it or have an answer for it. I think it's just part of the leadership factor that comes with being a quarterback but at the same time, (I was) walking into a new environment and trying to make an impact."
Taylor checks into the team's Berea facility most mornings around 5:30 a.m. and stays within the building's walls as long as necessary. He doesn't do it to make a particular point or show off. It's just "something that's worked for me," he says. "It's helped me get into a routine of staying focused or keeping focused and taking my game and elevating it each and every day." He is aware, however, that such an act sets a standard for the rest of the locker room to follow. "I think guys look at it and they definitely look at the leadership," he adds. "I think it's definitely something that guys gravitate toward, guys respect it as well."
Taylor also made headlines by organizing private workouts with a large contingent of Cleveland's offensive players, first down in Miami in the spring and then in Los Angeles last month. The videos of the bonding that inevitably surfaced stirred a social media frenzy but that wasn't the point. Taylor says the sessions provided a chance to bond before the season and develop on-field chemistry that'll be so important come fall.
In everything he does, Taylor's commitment to the team and work ethic shines through. It has endeared everyone — from teammates to ownership — to the new guy who gracefully recognizes his role as the Browns' face-of-the-franchise.
"I think the players follow him. If you ask our players—to a man—offensively and defensively, who they look to, they look to him," head coach Hue Jackson said in June. "He's done a good job in the building. He has done a good job on the field. I think he has kind of established himself."
"He's a stud, man. Everything he does, on and off the field. He works his tail off. When I think of quarterback in the NFL , that's what he does," left tackle Joel Bitonio added toward the end of OTAs. "He's putting in the time, he has a quiet confidence about himself and once he gets on the field he has command of that huddle. It's really refreshing to be around a guy like this. "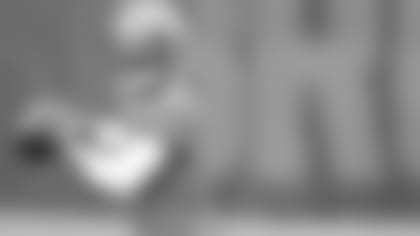 DEPENDING ON HOW you look at it, you could say Taylor was under-appreciated in Buffalo before being unceremoniously traded to a team that's won four games in three years. In another light — the one Taylor chooses to view things — a new start means new opportunities in Cleveland. "This is the most he's smiled since going into the NFL," Rodney says. "People were asking him, 'What do you think of being traded' because he was traded to Cleveland, and they hadn't won any games and they don't know — he was overjoyed. He couldn't wait to get there, especially when he met the coaches, Hue Jackson, and the owner."
It's a breath of fresh air for Taylor, who says he always will be thankful for his opportunity in Buffalo. A few weeks before the Bills benched him, ESPN's Mina Kimes described Taylor as the league's equivalent of a "Rorschach test for how we think about quarterbacks" and how his success "could change perceptions of what success at his position looks like — a heavy load for a quarterback accustomed to fighting just to be seen."
Taylor could be defiant in the face of his critics but instead shrugs it off.
"It's something I ask myself at times, but at the same time it allows remind myself that no one cares about my answer at the end of the day," he says. "I'm going to continue keep being the person that I am; I want to continue to keep showing people while proving people wrong."
After all, he believes he was born to lose and built to win.
The tattoos are a reminder of that every day.