PITTSFORD, N.Y. – The Buffalo Bills learned quickly Monday the Cleveland Browns have two capable No. 1 cornerbacks on the roster.
With Joe Haden (hamstring) watching from the sidelines in shorts, Tramon Williams stepped into the shutdown role and completely blanketed his side of the field. Passes were batted down, Buffalo wide receivers were outmanned with Williams' technique in press coverage and the 32-year-old's aggressive play pumped up his teammates to finish practice on strong note.
By the end of the practice session, Buffalo quarterbacks Tyrod Taylor, Matt Cassel and E.J. Manuel didn't even bother looking Williams' way.
"Anytime you step on the field you've got to feel like that, a No. 1 cornerback," Williams said, drenched in sweat on the St. John Fisher College practice field. "Regardless of the situation, whoever they say in the No. 1 or the No. 2  guy, it doesn't matter. Everyone is on the field at the same time. You've got to hold you own."
Williams isn't the only person in Cleveland saying he has the skills to defend any receiver in the league.
Back in March, when the Browns found out they were losing starting cornerback Buster Skrine, coach Mike Pettine pulled out his trusty old notebook – full of musings about hundreds of players in the league. When Pettine was with the Jets in 2010, the coach had seen film of the Green Bay Packers defensive back and was standing on the table for his team to sign the cornerback.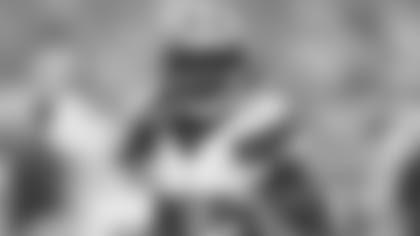 "When we watched him again this time, not much had changed," Pettine said.
"That was a key signing for us to really stabilize that room. Anytime you can bring a veteran guy that's proven that he can play at a high level for a long time in this league. It's a great example for our young guys."
Pettine has joked time and time again that when you play cornerback opposite of Haden, the forecasts on Sunday's are cloudy with a chance of footballs. And that's what they love about Williams – he wants passes thrown his way.
Entering his ninth season, Williams has 28 career interceptions, which ranks eighth on the NFL's active list. So many times in his career, especially during Green Bay's 2010 Super Bowl run, quarterbacks have paid the price trying to test Williams in coverage.
The Browns signed Williams first and foremost to be a key cog in the secondary. But his expertise didn't hurt. Because he learned from Pro Bowlers Charles Woodson and Al Harris with the Packers, Williams thinks it's his duty to pay things forward. So listen up closely, K'Waun Williams, Pierre Desir and Justin Gilbert.
"Pay attention to details. Once you get through that, you will find yourself doing some good things," Williams said. "In (Gilbert's) case, that's some of the things I see. He is in good positon a lot of the times. He just has to figure out what it is and he will be better."
Imagine if Williams keeps up this level play during the regular season. Imagine it teamed up with three other Pro Bowlers. You actually don't have to imagine it because Williams has made it a reality this summer.
"I can't say enough good things about him," Pettine said. "He's been the ultimate professional."