He's not talking about the kind that comes from "IHOP," his nickname as an offensive lineman at Virginia Tech, or the kind that's made with baking mix, which one college fan brought for him at each Hokies home game. Teller, the Browns' 315-pound starting right guard, enjoys a big breakfast, but he's hungry for a different kind of meal when he squats at the line of scrimmage for his next snap.
Teller is talking about the only way to make pancakes in football: by trucking through a defender so they land on their back. Sometimes, Teller will fall on them — just to make sure the pancake is cooked all the way through. He especially loves it when his block leads to an open rushing lane for a running back.
So far this season, Teller has done lots of baking. He's made plenty of pancakes that have led to big runs from running backs Nick Chubb and Kareem Hunt, and he's been one of the biggest reasons why the Browns' offensive line has become one of the best in the NFL.
Teller's appetite isn't decreasing anytime soon.
"The biggest thing of pancaking is forcefully putting someone against their will on the ground," Teller said. "You kind of feel it. As soon as it hits and you see that running back running right past you, there's that split second of 'Thank God. I did my job.' And then you run down the field and give him a high-five, and hopefully they scored a touchdown."
Teller's blocks have paved the way for many Browns touchdowns. In Week 2, he earned heavy praise from Browns coaches for making several plays that led to the Browns rushing for 215 yards and three touchdowns. He bullied the Bengals all night and helped Chubb score the Browns' first touchdown after blocking a Bengals defender to the ground, giving Chubb just enough time to sneak around him and generate speed to bulldoze through a few more defenders for an 11-yard touchdown.
A few drives later, Teller whipped around the line of scrimmage to make a pull block on a linebacker that was standing in the way of a 22-yard Chubb run stopped short of the goal-line. He scored on the next play.
Coach Kevin Stefanski rarely singles out players when he discusses game tape, but after the Browns secured his first win, he couldn't help himself.
"I would tell you," Stefanski said just a few seconds into his opening statement in his next-day interview, "Wyatt Teller really was playing a very physical football game."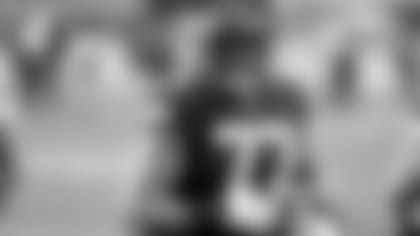 The highlights extend far beyond just Week 2. In Week 1, Teller made several key blocks against the big bodies on the Baltimore Ravens' defensive line. On one play, he tussled with a Ravens defender for 6 yards to keep a rushing lane open on a 22-yard run from Hunt, and guess how the play ended?
In Week 3, Teller delivered more punishing plays to the Washington Football Team. When the Browns needed a spark to make a fourth-quarter comeback from a 20-17 deficit, Teller made a pull block on a defensive back to help Chubb make a 25-yard gain and bring the Browns inside Washington territory. Cleveland was in the end zone five plays later.
On the next offensive drive, Teller made the same block — this one resulted in a pancake — on another opposing DB, and Chubb ran inside him before making a 20-yard sprint for a touchdown.
After three weeks of the season, Teller is ranked as the third-best guard in the league and has an overall player grade of 87.5, according to Pro Football Focus. He's a third-year player, but he's playing like an eighth-year veteran. Sure, the season is still young and the Browns will need him to deliver those blocks for another 13 weeks, but he's certainly met the expectations the Browns had for him through the first three games.
"He's a hard-working kid," Browns offensive line coach Bill Callahan said. "He is really tuned into the game. He loves it. He loves the detail, the minutiae and all the finer aspects of offensive line play that you can't give him enough techniques. We're still working on a lot of things with him, but we are really proud of his progress so far."
So how has Teller done it? How has he locked down a position considered in the offseason as one of the biggest holes on the Browns offense in a matter of three weeks?
The answer begins with where his NFL career started: Buffalo. The Bills drafted him in the fifth round of 2018 and started him at left guard for seven games as a rookie. Then, just before his second season was about to begin, the Bills traded him and a 2021 seventh round pick to the Browns for fifth- and sixth-round picks in 2020.
Cleveland was acquiring offensive line depth, and it didn't use Teller until Week 6. He spent those first few weeks undergoing the often tricky transition to right guard, a change Teller embraced but admitted was difficult to accomplish. He had played only at left guard in college and Buffalo, and now his NFL future was dependent on how quickly he could master a new position on a new team with a new playbook.
"Try to imagine the hardest thing in the world that you're good at doing with your right hand and then doing it with your left hand," he said. "It's difficult, especially at this level. I was slow coming to it. It was sloppy."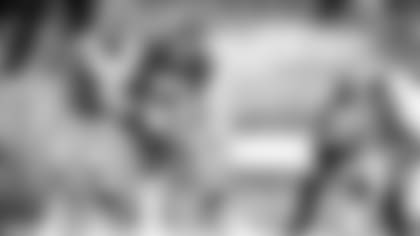 The Browns were looking for any solutions to help their inconsistent offensive line, and Teller was part of the plan. But even though he was given his first start in Week 9 and started the rest of season, he was far from guaranteed to have the same role again when the Browns returned for 2020.
A training camp position battle was ahead. Then, the pandemic hit.
As the NFL attempted to safely navigate through an offseason mired by COVID-19, players were given the choice to opt out and not participate in the 2020 season. Three linemen — Drew Forbes, Colby Gossett and Malcolm Pridegon — made that choice. All of them were expected to compete for the right guard spot, but their absences left Teller and Joel Bitonio as the lone returning guards from the Browns 2019 roster.
Cleveland, though, liked what it saw from Teller as soon as team practices began. He was one of the most engaged players and always had extra questions for coaches in the virtual offseason program, too. When camp started, the Browns had little concern about whom their Week 1 starter would be.
"Wyatt showed me that this was extremely important to him," assistant offensive line coach Scott Peters said. "He kept in touch with me, and he would always be asking questions on FaceTime calls just to try to cover some things. We felt like we covered some ground that we thought we otherwise lost given the circumstances."
Peters has been key in Teller's development. He was a fourth-round draft pick by the Philadelphia Eagles in 2002 and played in the NFL for nine years. When he retired, he opened an MMA gym, won multiple Brazilian Jiu Jitsu world championships and became a master of learning how to use hand and feet positioning to maximize body strength. Now, he's looking to carve a coaching career in the NFL by using that knowledge to coach offensive linemen.
When Peters coaches, he prefers to line up against guys himself as if he's a defensive lineman. He'll attempt to rush through them and place his hands on their shoulders and arms to see where their strengths and weaknesses are in the play progression. Then, he'll tell them what he felt.
With Teller, Peters has been able to patch his posture together. He's worked closely with Teller on keeping his feet and hips square to the defender, which makes it easier for him to keep his hands in a position of control.
"When you're looking at your body, you only have one surface that you can draw energy from, and that's the ground," Peters said. "So how do we develop that relationship between our body and the ground and all the postures and sequencing of the movements? And not just on every single play, but over the course and progression of the play, so if you freeze-frame your body at any moment during that play, are you in the optimal position to deliver force and balance with unbelievable power?"
The tape has shown that the answers from Teller have been "yes" more times than "no." And Peters is thrilled.
"He's being the hammer, not the nail," Peters said. "He's putting it on these guys, and I love to see his game improve."
That's how the Browns have discovered a dominant version of Teller. His best blocks have come from an ability to control his opponent from the time of the snap to the final tackle. He's still focusing on improving his measurements on every play, but the Browns have reaped the benefits when his step-by-step calculations are spot on.
"He has improved so much from last year," Chubb said. "It's very noticeable just to see him play. He has so much more energy and so much more swag. He's fun to run behind."
Cleveland believes it's found a winning formula that revolves around its running game. Chubb and Hunt are the only two backs on the same team to have more than 200 rushing yards this season, and their ability to keep a defense guessing up front has created extra passing space for quarterback Baker Mayfield, who has only been sacked four times — tied for fifth-lowest in the league.
The real brunt of the work, however, has come from the offensive line, which appears to be one of the most complete units in football. Teller has been a big reason why, but he's hungry for more success.
And he plans to keep setting his table with a fork, knife and bottle of syrup.
"It's a long season," he said. "If I'm doing well by Week 16, then that's the plan. That's what we want. I think there's important things with playing at a high level, but I'm still having fun and still being able to do what offensive lineman do for fun — and that's pancaking."