During a typical week of steamy training camp practices, Cleveland Browns quarterback Connor Shaw gets 10-11 repetitions while he splits his third-team duties with veteran Thaddeus Lewis.
And more than halfway through camp, Shaw has made the most of his small window of opportunity.
Since his Week 17 start against the Baltimore Ravens, the Browns have seen substantial improvement from their second-year quarterback. Shaw's arm strength has gotten noticeably better, particularly his velocity on throws 15-25 yards down the field.
"That's something from a mechanics standpoint I know (quarterbacks coach Kevin O'Connell) has been working hard with him," coach Mike Pettine said. "When your feet are right, you can generate a lot more force on the ball and drive it. Anytime you're throwing outside the numbers, you really have to drive the football and that's been a point of emphasis with Connor."
Shaw's improved arm was put to test Friday at the Orange and Browns scrimmage. On his first drive, the 23-year-old connected with rookie wide receiver Vince Mayle for a gain of close to 30 yards. A couple of plays later, Shaw pushed his group into the end zone against a stingy Browns second-team defense.
"It was good to get out there and kind of play fast and be sharp" Shaw said after Sunday's practice. "There's definitely some things I can learn from, but I thought I did a solid job."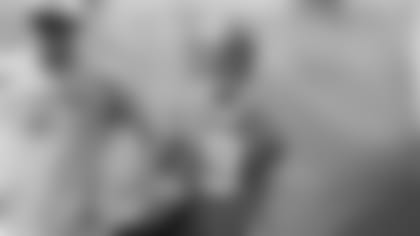 Most NFL teams generally carry two quarterbacks into the regular season, but Shaw is gunning for a permanent spot on the 53-man roster. He feels more comfortable with the little things, such as terminology, knowing how to adjust offensive line protections and diagramming plays on the whiteboard.
Perhaps the most noticeable thing about Shaw is how he won over teammates following the Ravens game. Playing with a nasty rib injury and a dislocated finger, Shaw didn't think once about leaving the field.
"I would've had to had a broken leg or something – and even then, they'd have to carry me," Shaw said.
Fighting through obvious pain, he took command of the huddle with fire and he had the Browns within striking distance of knocking Baltimore out of the playoffs. There's a noticeable excitement from Browns teammates when No. 9 makes a big throw in practice, and it's a carryover from his gritty effort late last season.
"The way I performed, it kind of opened eyes and it earned a level of respect in the locker room," Shaw said.
Shaw's rising development, alongside Johnny Manziel's, cannot go without mentioning Josh McCown. The 36-year-old has made the quarterback room his own personal science project, tinkering with each young quarterback individually to make them better as football players and men.
"Oh man, he's been a world of a difference," Shaw said of McCown. "He's taken on the role of really helping me and Johnny, and even Thad. It's really good to have someone that's played so long and understands the game in and out. He's really been beneficial to us."
When the Browns play the Redskins on Thursday at FirstEnergy Stadium, it will be a familiar opponent for Shaw. The South Carolina alum went 8-for-9 for 123 yards and a touchdown last preseason at FedEx Field. Pettine said the coaching staff has yet to finalize who will play and when they'll play during the opening game of the 2015 season.
No matter if it's the first quarter or the fourth, you can count on one thing: Shaw will be ready.
"My job right now," Shaw said, "is to take advantage of every rep."