The Browns have officially locked in three of their eight players from their 2021 rookie class.
Fields, who led the Big 12 in tackles per game (9.8) last season at West Virginia, was drafted by Cleveland in the fifth round at pick No. 153. LeCounte, a safety from Georgia who registered eight interceptions in three seasons, was drafted later that round at pick No. 169. Felton was the Browns' final pick of the draft in the sixth round (No. 211) and played running back, wide receiver and special teams at UCLA. He amassed 2,670 all-purpose yards and 16 touchdowns in four seasons.
Tony Fields II | LB | West Virginia
5th round (No. 153 overall)
Played in nine games for West Virginia in 2020, registering 88 tackles, one sack, one interception and three passes defensed…Finished No. 1 in the Big 12 and No. 27 nationally in tackles per game (9.8)…Ranked No. 16 in the Big 12 in solo tackles (34)…Tabbed Big 12 Defensive Newcomer of the Year (Coaches, AP, Heartland), Reese's Senior Bowl All-America First Team, All-Big 12 First Team (Coaches, AP, Heartland) and All-Big 12 Second Team (Phil Steele)…Transferred to West Virginia from Arizona (2017-19), where he played in 37 games and posted 287 tackles and 8.5 sacks…In 2019, was second on the team with 94 tackles, 1.5 sacks, three pass breakups, one interception and one forced fumble…As a sophomore in 2018, played in 12 games with 89 tackles and two sacks…Played in 13 games as a true freshman in 2017 and led the team with 104 total tackles, the most for a UA freshman in more than 20 years…Native of Las Vegas, Nev.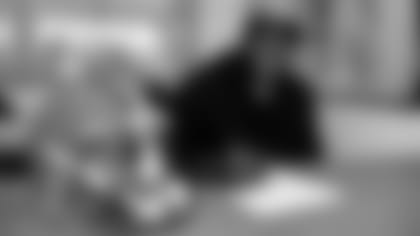 Richard LeCounte III | S | Georgia
5th round (No. 169 overall)
Played in 44 games at Georgia, posting 176 tackles, 19 pass breakups, eight interceptions, six fumble recoveries and four forced fumbles…Played in six games, starting in five, as a senior in 2020…Finished season with 26 total tackles, three interceptions and four pass breakups…Co-winner of Defensive Most Improved Player award in his junior season in 2019…Saw action in all 14 games and was the team's third-leading tackler with 61 total stops…Led the SEC in fumbles recovered with three and was second in interceptions with four…Notched two interceptions in the Sugar Bowl win over Baylor…Started 13 of 14 games in 2018 and was the Bulldogs' leading tackler with 74 total stops…Appeared in 10 games as a true freshman in 2017…Native of Riceboro, Ga.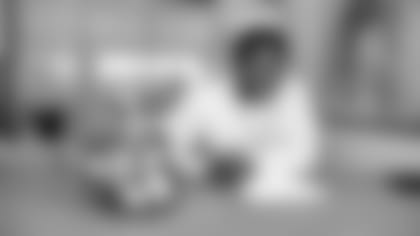 Demetric Felton | RB | UCLA
6th round (No. 211 overall)
Played in 37 games at UCLA, rushing 101 times for 433 yards and two touchdowns…Played receiver in his redshirt freshman and sophomore seasons before switching to running back in 2018...Also registered 77 receptions for 799 yards and five touchdowns…Topped the Pac-12 and ranked sixth in the nation in all-purpose yards per game (165.83) as a redshirt senior…Led the Bruins in rushing with 86 attempts for 331 yards and a score, while ranking 14th in the nation and fourth in the Pac-12 in yards rushing per game (111.13)…Named first-team all-purpose (AP); first-team running back (PFF); second-team running back (AP); second-team running back (Coaches); second-team running back (Phil Steele)…Set a UCLA record for running backs with 55 receptions in 2019…Set a school record with four scoring plays of at least 75 yards in 2019…Named to the Athletic Director's Academic Honor Roll in Fall 2016, Winter 2020 and Spring 2020 quarters…Native of Temecula, Calif.